Budapest International Choir Competition – in 1988, Gábor Hollerung was one of the key initiators of establishing a choir competition with a new artistic concept in Budapest. Since then, the competition, organized every two years, has evolved into an internationally-ranked event and has served as a model for several other international choir contests.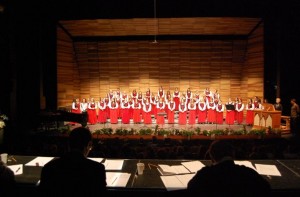 The first step of the "MUSICA MUNDI" series founded in 1988 was organising the 1st Budapest International Choir Competition, which laid down the bases of one of the biggest and most successful choral event series.
Meanwhile the name Musica Mundi has become the symbol of a globally unique artistic concept. The essence of the idea is to allow average choirs making up the backbone of the choral movement to take part at competitions alongside top choirs of the world.
This is a crucial point because the doors of grand international contests were practically closed to these choirs.
This fundamental idea is manifested in a system where the competition is announced on various difficulty levels, with or without compulsory pieces, and in a wide range of categories from madrigals through classical and modern, avant-garde choral music to jazz.
Beside Grand Prizes, special and category prizes are given to the best groups of the competitions and the international jury hands out golden, silver and bronze diplomas to each participant based on a standardised evaluation system, which truly reflects the achievement of the choirs.
The initiative has found enthusiastic followers all over the world and it has served as a professional model for a long row of events in Hungary (Budapest, Eger, Veszprém), in Europe (Italy – Riva del Garda, Grado, Venice, Salo, Salsomaggiore Terme, Germany – Zwickau, Pohlheim, Wernigerode, the Czech Republic – Litomysl, Sweden – Helsingborg), in Israel (Netanya), and the United States (Fort Lauderdale – Florida).
The highlight of the series is the Choir Olympics organised every second year, which, similarly to the Olympic Games, is a noble competition where every age group may compare their knowledge in nearly all the genres of the choral literature.
The 1st Choir Olympics took place in Linz in 2000, followed by South Korea in 2002, Bremen (Germany) in 2004,  Xiamen  (China) in 2006, in2008 in Graz (Austria), and Shaoxing, China, in 2010. The next host of the choir olympics meeting will be Cincinnati (USA).
The success of Interkultur's choir events is underpinned by clear evidence: more than 5600 choirs from 100 countries have participated so far in the competitions and olympic games.
Further information: www.interkultur.com